In fact, to a plump lady, choosing swimsuits, is basically like choosing clothes.
Both dark colors and printed patterns can shrink the surface area visually, so please try to choose dark colors or printed swimsuits.
Black color is always the best choice. However, the shoulders' straps of some black swimsuits are too slim. If your shoulders are wide, this slim design will highlight the shoulder width, so obviously, it looks fatter.
If the shoulders are relatively wide, please choose the swimsuit which has wide shoulder straps design, which can block part of the body surface area and achieve visual thinning effect.
Meanwhile, you can also choose a scarf or a shawl to cover shoulders slightly.
Another advantage of the print pattern fabric material is that it can shift people's eyes, so make you looks more sexy and charming.
One-piece design swimsuits usually can shrink the waist, combined with the fabric cutting method, which can effectively close the abdominal muscles. You can also choose high-waist swimsuits to achieve this goal.
If your thighs are thick, be sure to choose briefs instead of boxers.
Please be noted that the color of the swimsuit must be suitable for your skin color. Sometimes the color of the swimsuit is too bright, which will enlarge the body surface area visually, thus making people looks fatter.
The swimsuit made of leopard print, sequin and metallic luster fabric looks really cool, but it is hard to hold perfectly. So if you think you're fat, you'd better to do not choose leopard print swimsuit.
Finally, please remember that the swimsuit is an unique cloth. If you want to looks thin with it, you'd better consider the color, print, design, and style comprehensively.
A swimsuit suitable for your body will bring you a good mood, make you full of charm and become the focus of attention.
We are a professional swimwear factory with 18 years of experience in both manufacturing and exporting. Please choose us, let's create a win-win situation for you.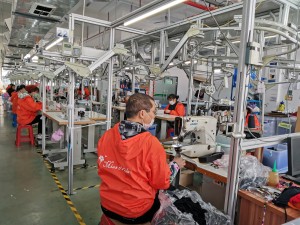 ---
Post time: Mar-13-2023